10 Words I Give
September 20, 2016 - October 1, 2016
Congratulations
Deception at it's Best!
-
Eden
Nature Is Golden!
-
Owls of Night
Details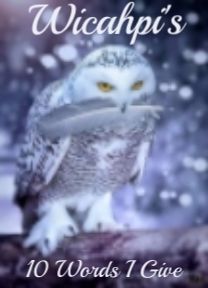 Create a poem incorporating the 10 Given Words below.
Please use either bold, italics or underline for the given words, so that I can easily see that all words have been used. This keeps me from flipping back and forth between word list & poem. My memory is not what it used to be. You may also use a COLOR, if you are into that.

Please DO use the word as given, not a variation of the word.
Most of all, DO have fun in creating your tale!

All Genre is Acceptable, except XRated. PG through R is cool.





D E C E P T I O N
T R I A N G L E
J I G G L E
O C C U R A N C E
A P P L E S
B U R N T
Y E L L O W
H A N G E D
S T U M B L E D
F I S H Y

Blessings & Good Luck
Wicahpi Iyozaza
Moderator

Where Eagles Fly, PA
Stats
2 Contestants
2 Submission
313 Views
Created Sep 20, 2016