Congratulations
1st Place Rhythmic Mind Candy
-
Paris In An Apple
2nd Place Pop Rock Explosion
-
` Leftover Pits`
3rd Place Primal Baklavah
-
Candyapple Carpet Ride (a rat's eye view)
4th Place Delectable Cerebral Explosion
-
Hypnodelica
5th Place Hindbrain Ecstatic
-
Calabash Squash
6th Place Delectable Mind Edible
-
[writing deleted]
7th Place Razzle Dazzle Soda Pop
-
An Epic of Collossal Proportions
8th Place Jazzy Snazzy Pixie Dust
-
Release!
9th Place Rolling The Tongue In Sparks
-
[writing deleted]
10th Place High Wire Electric Tingles
-
[writing deleted]
Details
Only NEW poetry written specifically for this contest will be accepted! I felt the need to add this since some people have the comprehension level of a invertebrae.
PLEASE READ FROM BEGINNING TO END BEFORE SUBMITTING! or you will be properly reprimanded for simply glory whoring any piece of writing for a badge~you've been forewarned and forwarned is forearmed or some sh*t like that~
I want you to open your brainpan to rhythmic writing, permit the words and images to strike you before you strike the keys. What I mean by rhythmic is I want you to take the classic form of rhyme and meter and split it wide open in a confetti of cerberal and surreal images.
For an example I did just that with this piece, please refer to it for clarification of what I mean about original rhythm;
http://www.writerscafe.org/writing/seleneskye/792838/
Here there are no rules, only ones you set for yourself. The English language is an extremely flexible language that bends to the writers creative will. Use it, and create something unique to you, how your brain patterns rhythm.
NEW AND ORIGINAL WRITING ONLY, SPECIFICALLY WRITTEN FOR THIS CONTEST!!
First place winner will receive a first edition of my first published literary baby, Crow Woman & Mudgirl, signed, sealed, and delivered with a kiss (metaphorically speaking ;)
For description and reviews of the book you can go here;
http://seleneskye.weebly.com/reviews-for-selenes-books.html
Have fun, and get baking your primal baklavah! ;)~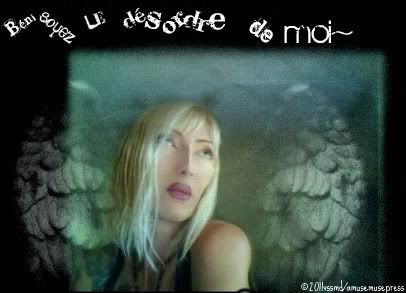 Prizes
1st Palce Winner receives a first edition signed copy of Crow Woman & Mudgirl

Moderator

AsIf, Trippy Cottontail, Japan
Stats
20 Contestants
20 Submissions
1336 Views
Created Sep 9, 2011